Key Documents
Below is a list of key documents, studies and other resources related to the proposed Rosemont mine.
Rosemont Deceptions – a list of some of the many deceptions Rosemont has used in their PR campaign.
Rosemont Economic Impacts – an overview of the potential negative impacts the proposed mine would have on the economy of Southern Arizona.
Rosemont Issue Brief – an excellent overview of the major issues surrounding the proposed Rosemont mine.
SSSR_Brochure – our organization's general brochure, in pdf format.
SSSR Endorsement Form – help us increase our list of endorsees! If you are a member of a group or organization or are a business owner, we need your endorsement! Download this form and mail it in TODAY!
Rosemont public opinion poll – Respected, National, Bi-Partisan Polling firms find that southern Arizonans believe that the Rosemont Copper's mine is NOT in the public's best interests
Special report on the Socioeconomic Impacts of the proposed mine
The Failure of the Rosemont Mine DEIS to Adequately Analyze the Socioeconomic Impacts of the Proposed Mine (click to download the report)
Prepared for the Mountain Empire Action Alliance Sonoita, Arizona
by
Thomas Michael Power, PhD
Donovan S. Power, MS
Power Consulting Missoula, Montana www.powereconconsulting.com
Studies
2010 Economic Study by Dr. Tom Power
The materials were specifically prepared as scoping comments in order to assist the Coronado National Forest and their associated consultants in preparing a Draft Environmental Impact Statement that incorporated a full discussion of the economic and non- market costs and benefits of the proposed Rosemont Copper Project.
"Tom_Power_Report_Combined" contains five separate scoping comment papers prepared by Dr. Powers.
I. Thinking Analytically about the Local Economy and Local Economic Well Being: The Limits of the "Cattle, Cotton, and Copper" View of the Arizona Economy
II. The Economic Context in Which to Evaluate the Proposed Rosemont Mine
III. The Promises and Reality of Copper Mining
IV. Rosemont Copper's Projections of Economic Impacts
V. Economic Values Put at Risk by the Proposed Rosemont Mine
The Mountain Empire Action Alliance also prepared a set of appendices as background material for Dr. Powers; these appendices are contains in separate individual files:
This submittal of scoping comments also includes a copy of the Powerpoint presentation "Rosemont_presentation_Tucson" given by Dr. Powers at a Tucson meeting of the Coronado National Forest – Rosemont Interdisciplinary Team, and Cooperating Agencies on June 30, 2010, and to members of the community at public meetings in Sonoita and Tucson on June 30 and July 1, 2010.
Study by Josef Marlow of the Sonoran Institute, Dec. 2007
Kaipers and Maest Study, 2006
Comparison of Predicted and Actual Water Quality at Hardrock Mines
Predicting Water Quality Problems at Hard Rock Mines
An EARTHWORKS white papger summarizing and analyzing the groundbreaking studies by Ann Maest, PhD and Kim Kuipers, P.E.
Location Map (click below map to view a larger version of this map)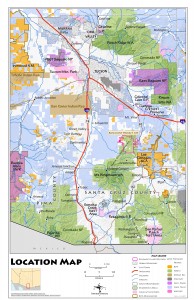 An archive of documents and reports relating to the proposed Rosemont mine
Presentations from the June 18 Public Forum in Tucson
Presentations from the April 17 Public Forum in Vail
Rosemont Mine Claim Validity Report
Rosemont's Mine Plan of Operations
Executive Summary of Augusta Resource's Mine Plan of Operations, July 11, 2007
Forest Service Press Release requesting more information from Augusta Resource, Oct. 19, 2007
Augusta Resource's Drilling Plan, submitted to the Forest Service, March 1, 2007
Augusta Resource's first Mining Plan of Operations submitted to the Forest Service in July 2006.
Geologic Survey of the Rosemont Area, Dec. 2006
---
Pima County reports relating to the Rosemont Mine
Oct. 14, 2009, letter from Pima County to the Forest Service regarding Rosemont Copper's latest publicity statements
Sept. 30, 2009, Pima County letter to the Forest Service regarding NEPA alternative analysis, Geochemical review by Ann Maest
Sept. 24, 2009, Pima County letter to USDA Secretary Tom Vilsack regarding MOU between Forest Service and Rosemont Copper
Pima County, Clean Water Act Effectiveness Review, Jan. 13, 2009
Pima County's Groundwater Model of the Santa Rita Rosemont Project Site, by Tom Myers, April 28, 2008
Pima County's Memo and Resolution regarding the Green Valley CAP pipeline proposal by Augusta Resource, Dec. 4, 2007
Pima County's comments on water impacts from the proposed mine, Tom Myers report, Sept. 5, 2007
Pima County preliminary review of the possible hydrologic impacts from the Rosemont Mine to the Cienega Watershed, Sept. 5, 2007
Hydrogeology of the Santa Rita Rosemont Site, by Tom Myers, report to the Pima County Board of Supervisors, Aug. 8, 2007
(link to the report on the Pima County website)
Protecting Pima County's natural resource assets from mining activities, Pima County, Feb. 20, 2007
Pima County's comments on Augusta's Mining Plan, Oct. 2006
Preserving the Santa Rita Rosemont Ranch
(This report was prepared in Dec. 2004 by Pima County, to propose purchase of the Rosemont Ranch properties with 2004 Open Space Bond money.)
Water Quality
Predictions of Water Quality Quality Problems at hard-rock mines, Ann Maest and Jim Kuipers, Dec. 2006, summary by Earthworks
Economics
Mining's potential economic impacts in the Santa Rita and Patagonia Mountains Region of Southeastern Arizona, by Josef Marlow, the Sonoran Institute, Dec. 2007
Mining's potential economic impacts Executive Summary
Mining's potential economic impacts study area map
Look behind the scenes to see who Augusta really is – do we really want to trust them with our precious Santa Rita Mountains? Information on Augusta Resource from their SEC filings, Dec. 31, 2006
Arizona Mining Scams And Unassayable Ore Projects Of The Late 20th Century, by W. Scott Donaldson,
Mining Law and Mineral Entry
Southern Arizona Public Lands Act of 2007, bill to withdraw Forest Service lands in Southern Arizona from mineral entry, from Congressman Grijalva
Mining in the sky islands, special report by the Sky Island Alliance
Under the Mining Law of 1872, mining claims must be valid for a mining company to develop a mine on public lands. Even though the Pima County Board of Supervisors passed their resolution opposing the mine, the Forest Service is the agency that has the authority to approve or deny the mine proposal.
Pima County's letter to the Forest Service requesting that the validity of Augusta's mining claims at Rosemont be examined.
To read written testimony submitted by the six invited witnesses at Grijalva's Feb. 24, 2007 hearing in Tucson, go to: http://resourcescommittee.house.gov/index.php?option=com_jcalpro&Itemid=27&extmode=view&extid=7
Clean Water Act / Santa Cruz River TNW
In 2008 the U.S. Army Corps of Engineers determined that two reaches of the Santa Cruz River, located in Pima, Pinal and Santa Cruz counties, are considered "navigable waters of the United States. This is important because it may require the Rosemont Mine to get additional permits to protect water quality downstream from the site.
However, the memo regarding the determination has since been taken off the Army Corps website. Tucson Audubon Society has posted information about this on their website.
Biological Studies
Pima County report on the July 31, 2006 floods and debris flows
Coronado Planning Partnership, Report on the State of the Coronado National Forest
The Borderlands Jaguar Protection Project: A Report on the Jaguar in Southeastern Arizona (warning! this is a very large file!)
Evidence of Resident Jaguars ( Panthera onca ) in the Southwestern United States and the Implications for Conservation, by Emil B. McCain and Jack L. Childs
Ecosystem Services Discussion Paper